Ever wonder what you are signing at the bottom of our service work order?  Wonder no more…here's the blown-up fine print so you can actually read it.  Please give us a call with any questions at 810-227-1171.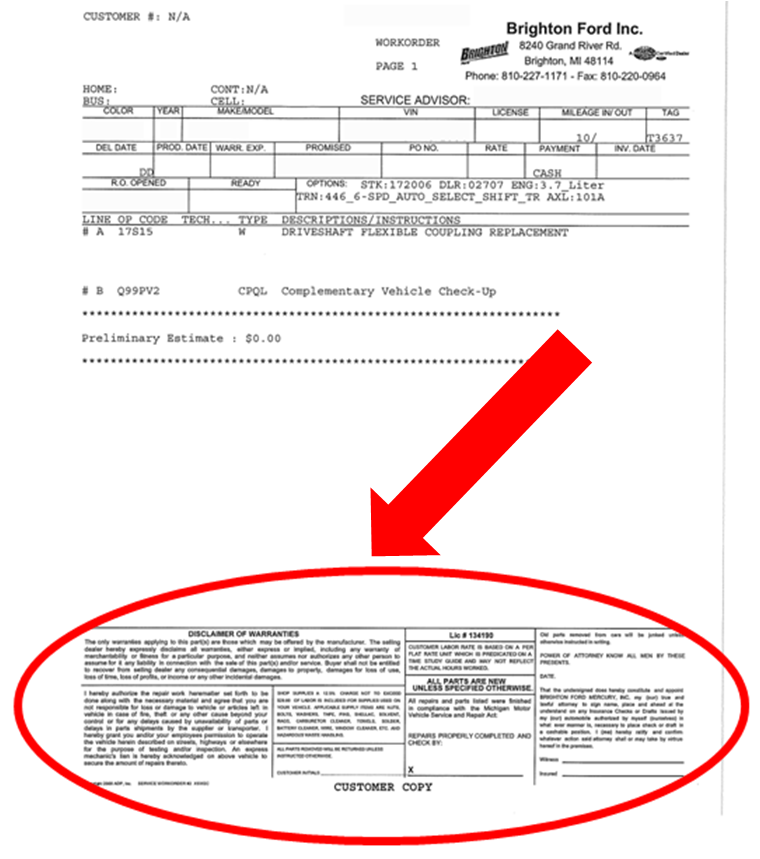 DISCLAIMER OF WARRANTIES 
The only warranties applying to this part(s) are those which may be offered by the manufacturer. The selling dealer hereby expressly disclaims all warranties, either express or implied, including any warranty of merchantability or fitness for a particular purpose, and neither assumes nor authorizes any other person to assume for it any liability in connection with the sale of this part(s) and/or service. Buyer shall not be entitled to recover from selling dealer any consequential damages, damages to property, damages for loss of use, loss of time, loss of profits, or income or any other incidental damages.
I hereby authorize the repair work herematter set forth to be done along with the necessary material and agree that you are not responsible for loss or damage to vehicle or articles left in vehicle in case of fire, theft or any other cause beyond your control or for any delays caused by unavailability of parts or delays in parts shipments by the supplier or transporter.  I hereby grant you and/or your employees permission to operate the vehicle herein described streets, highways or elsewhere for the purpose of testing and/or inspection.  An express mechanic's lien is hereby acknowledged on above vehicle to secure the amount of repairs thereto.    
Shop supplies a 12.5% charge not to exceed $28.00 of labor is included for supplies used on your vehicle.  Applicable supply items are nuts, bolts, washers, tape, pins, solvent, rags, carburetor cleaner, towels, solder, battery cleaner, wire, window cleaner etc. and hazardous waste handling.  All parts removed will be returned unless otherwise instructed otherwise.   
Lic # 134190
Customer labor rate is based on a per flat rate unit which is predicated on a time study guide and may not reflect the actual hours worked.  
All Parts Are New Unless Specified Otherwise
All repairs and parts listed were finished in compliance with the Michigan Motor Vehicle Service and Repair Act.
Old parts removed from cars will be junked unless otherwise instructed in writing.  Power of Attorney know all men by these presents.  
That the undersigned does hereby constitute and appoint BRIGHTON FORD, INC. my (our) true and lawful attorney to sign name, place and ahead all the understand on any Insurance Checks or Drafts issued by my (our) automobile authorized by myself (ourselves) in whatever manner is, necessary to place check or draft in a cashable position. I (me) hereby ratify and confirm whatever action said attorney shall or may take by virtrue hereof in the premises.