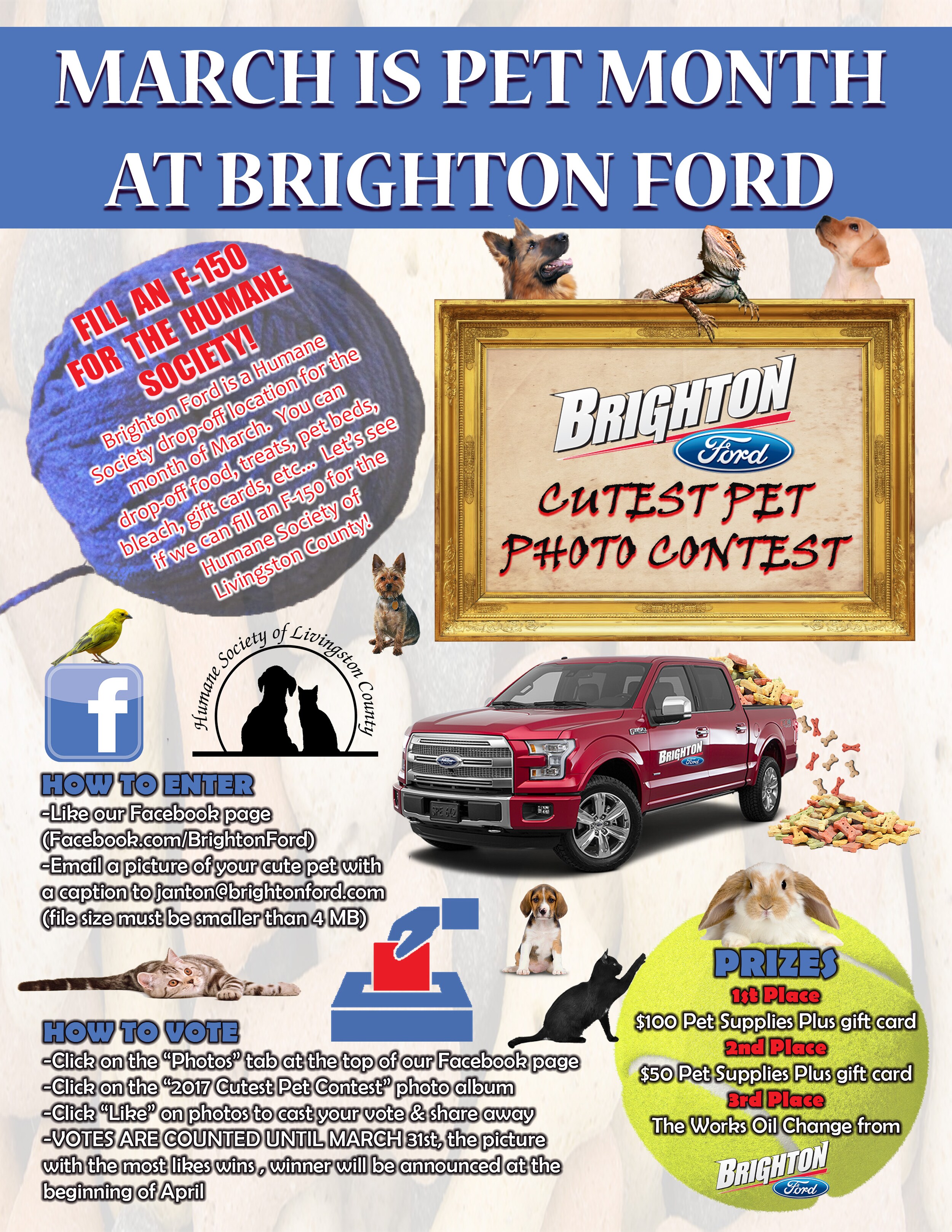 Pet Month Is Back At Brighton Ford!
FILL AN F-150 FOR THE HUMANE SOCIETY OF LIVINGSTON COUNTY
Brighton Ford is a Humane Society drop-off location for the month of March.  You can drop-off food, treats, pet beds, bleach, gift cards, etc...  Let's see if we can fill an F-150 for the Humane Society of Livingston County!  See the detailed list below of items the Humane Society needs right now.
 

CUTEST PET PHOTO CONTEST

How To Enter
-Like our Facebook page
-Email a picture of your cute pet with a caption to janton@brightonford.com (File size must be smaller than 4 MB)
How To Vote
-Click on the "Photos" tab at the top of our Facebook page
-Click on the "2017 Cutest Pet Contest" photo album -Click "Like" on all of the photos that you want to vote for 
-VOTES ARE COUNTED UNTIL MARCH 31st, the picture with the most likes wins , winner will be announced at the beginning of April 
Prizes
1st Place: $100 Pet Supplies Plus gift card

2nd Place: $50 Pet Supplies Plus gift card

3rd Place: The Works Oil Change from Brighton Ford 
PET OF THE WEEK
Looking to adopt a new pet?  Make sure to check out the Brighton Ford Pet Of The Week!  We have partnered with the Humane Society of Livingston County to highlight a pet every week in hopes of helping a dog or cat find their forever home!  As a matter of fact, the Humane Society of Livingston County is offering an additional 10% off of your adoption fee when you mention that you saw the Brighton Ford Pet Of The Week on our website or on our Facebook page!    https://www.facebook.com/brightonford
Click here to view our Pets Of The Week    
Click here to view our Facebook page 

Click here to view the contest entries  
HUMANE SOCIETY OF LIVINGSTON COUNTY WISH LIST:
Check out some entries from last year's photo contest: